Outstanding Achievement Wild Sheep Foundation 2014
Terry Anderson of San Gorgonio Outfitters has recieved an "Outstanding Achievement" award from the Wild Sheep Foundation. This award was given to Terry to recognize his great efforts to help preserve wild sheep and ram habitats. Congratuations to Terry Anderson and the San Gorgonio Outfitters.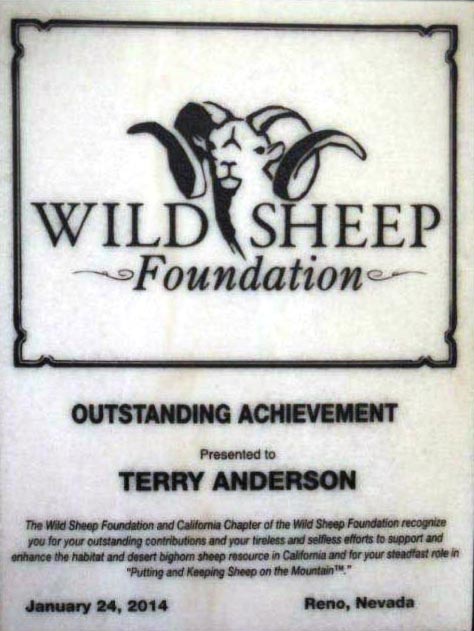 150 SUCCESSFUL HUNTS
Terry Anderson has reached his 150th successfully guided Desert Sheep Hunt. Sean Osmond successfully harvested a beautiful Desert Bighorn Ram from the Old Dads Mountains today. The team prepared all week by scouting for the rams in this difficult area. Sean did a fantastic job and we are proud to be a part of his great success. Initial pictures are posted on face book.
Today is opener. Cold and windy conditions make the hunts difficult. SGWO wishes every tag holder the best of luck.
7th GRANDSLAM.....
Jim Craig acheived his 7th grand slam with SGWO November 30 2013 in the Old Dad Mountains. This is a lifetime acheivment for Jim. Congratulations from the SGWO crew. We enjoyed our hunt with you and your great wife Leann.
Thanks for hunting with us.
Tis the Season
Tis the Season for Sheep Hunting...
Hope everyone had a wonderful Thanksgiving. SGWO has already completed one successful sheep hunt in the Orocopia Mountains with Shelly Sayer. Shelly successfully harvested a 183+ ram. She is a phenomenal hunter and we enjoyed our time with her.
We are looking forward to a successful season and wish the best to all of you.
Have a great season
Terry